Well, it's been a while since i've posted, but i'm going to try and share a recipe a week, especially in the lead up to Christmas as things get busier and we have more guests around!!!
I cooked this recipe the other day and it is AMAZING!!!! The moistest, yummiest cake you will ever eat!!! I made it using Nutura sugar, which is a new 'sweetener' that is all natural and doesn't contain any of the nasty things that have given sweeteners a bad name. So it's a low calorie, high protein, gluten free snack!! Great to have on hand for 3:30itis!!!
Source
"Quick and Easy Cakes" by Bay Books
Ingredients
2 Oranges
1 1/2 cups (280g) ground almonds (note - i actually used half almond, half coconut, measuring by the cup, as coconut is a lot lighter :D)
1 cup (250g) caster sugar
1 teaspoon baking powder
1 teaspoon vanilla essence
1 teaspoon Cointreau (i didn't have any in the cupboard, so i didn't use it)
6 eggs, lightly beaten
Method
1. Place the whole oranges in a saucepan, cover with pater and place a small plate or bowl on top to keep the oranges submerged - like this: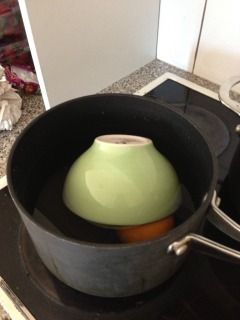 2. Gradually bring to the boil, the reduce and heat and simmer for 40 minutes, or until very soft. Preheat the oven to moderate (180C/350F/Gas 4). Grease and line a 23 springform tin. I actually used a Tupperware round silicon form which is bigger than this, and it works out fine :D
3. Cut the oranges into quarters and leave to cool. Remove an pips, then blend in a food processor until very smooth. I dont' actually own a processor, but i used a stick wizzer with a blender attachment, so you can definately do this with a blender, or probably even a stick wizzer in a bowl :D
4. Add the ground almonds, sugar, baking powder, vanilla essence and cointreau and, using the pulse button, process until just combined.
5. Add the egg and process again until just combined - do not overprocess.
6. Pour into the prepared tin and bake for 50 minutes, or until firm and the cake leaves the side of the tin. Leave to cool in the tin. Dust with icing sugar to serve if desired.