Home-made sausage rolls are so easy, quick, cheap and yummy!!! A great treat for Saturday lunch - and fantastic for parties. And the best part about making your own is that you can add whatever you want! It's a great way to get extra veggies into a food kids love!
Ingredients
Puff Pastry
Chopped Onion
BBQ Sauce
Breadcrumbs
Sausage Mince
Egg
Method
1. Preheat oven to 180 degrees C.
2. Take puff pastry out of freezer and allow to defrost flat - will take about 10 minutes.
3. Mix mince, onion, sauce and bread crumbs until combined. One portion of sausage mince from the grocery store (~$2) needs ~3 tablespoons of sauce and ~6 tablespoons of breadcrumbs.
4. Add in any extra ingredients you wish - veggies etc. and mix thoroughly.
5. You can get two lengths of sausage roll from each pastry sheet. Form the meat mix as so: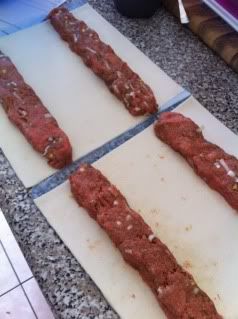 6. Cut pastry in half, apply a bit of egg wash to pastry on one side of meat, then roll pastry around meat, brushing top with egg. Cut into desired lengths and place on tray in oven for 20-30 minutes.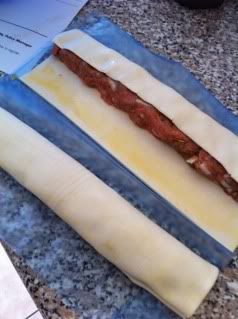 You can freeze the sausage rolls once they are made. Best to unfreeze them naturally, rather than putting them in the microwave, because of the pastry.

A note on freezing


If you buy the sausage mince fresh and use it fresh, you can freeze the rolls after they have been made. If you buy the mince frozen, or freeze the mince before you make the rolls, you need to cook the sausage rolls before you freeze them. Also, did you know that puff pastry can be thawed and refrozen? Very handy when you're making this sort of thing, as you often don't know how many sheets you'll need! I find i need 2.5 sheets for one portion of sausage mince.

Enjoy!